Page 1
This is a custom order item
Contact Annie using the phone number below to order from this website
707-459-2418 and email: orders@ancientcircles.com
All Circlets are adjustable
(Prices are subject to change without notice
due to fluctuations in the metals market)
Read about the Origins of Circlets & Ceremonial Headpieces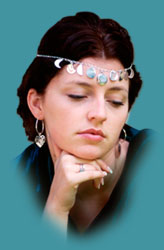 Simple Wire Circlet
Solid Sterling Silver
#CIR-S $95


Circlet with Pentagram
Solid Sterling Silver -
#CIR-PS $180.00


Moon Crescent
Solid Sterling Silver
#CIR-SM $180.00


Moon Crescent with Moonstone
Solid Sterling Silver
#CIR-SM8 $195.00
CIRCLETS




Sterling Pentagram
Circlet Pendant
Plain - #PENT-AG- $12
w Amethyst, Garnet or Moonstone
#PENT-AGS - $16




Solid Sterling Silver Circlet
#CIR-SL $95

This simple silver circlet can be worn as a fillet band
and/or a pendant can be added to it as a "slider" .
You may add and remove any of your own
jewelry from the adjustable back area!


The pictured pendant is no longer available
except in a very much larger version.
---

Petite Knot Circlet
(Custom Order - Allow 2-3 weeks for this item)
Bronze with Moonstone Circlet #PKC ...... $74.00
See our matching wedding necklace below
---


Click image for enlarged view
Petite Knot Wedding Necklace
Bronze with Mother of Pearl #PKWN ..... $89.00
Matches our petite knot circlet above
(Custom Order - Allow 2-3 weeks for this item)
---
Circlets, Page 1 | Circlets, Page 2 || Circlets Origins || Medieval Belts
Home || Shipping Charges
---
All Rights Reserved © 1996 Ann W. Weller
No portion of this publication may be reproduced or transmittedin any form or by any means, electronic or mechanical,
including by photocopying, recording, scanning, or use of any information storage and retrieval system
without express written permission from Ann B. Waters, Proprietor, Ancient Circles.